What's a party without balloons? Whether it's a birthday or a bridal shower with the right ideas, balloons have the power to make every event look like a ball. This is why we present to you twenty of the most amazing balloon décor ideas that you can use to make every event special.
Make Your Christmas Decorations a Little Balloon-y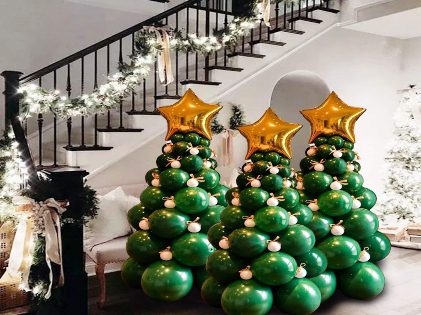 Balloon Christmas Tree: Forget your regular Christmas tree. Have you ever thought about making a Christmas tree out of balloons? It is truly a sight to watch for everyone in the house, especially for children and arriving guests.
Balloon Christmas Wreath: Just like a balloon Christmas tree, you can also make a wreath out of balloons and turn your Christmas décor around.
Tiny and Huge Balloon Structures
Balloon Snowman: Another Christmas idea that you can use. This is perfect for classrooms with children. You can also get super creative with the snowman and add other decorative items like a scarf made of colored paper and use markers to add other details.
Snowman Balloon Garland: Snowman Balloon Garland is extremely easy to make and also takes up very little time.
Balloon Farm Animals: Forget about buying miniature animals, you can make cute little farm animals out of balloons and use them to decorate birthday parties and classrooms.
Marquee Balloon: You can create marquee balloon numbers and letters instead of using regular and boring numbers and letters.
Cupcake Balloons: Cupcake balloons are perfect for birthday parties. They don't just catch one's eye but are also very easy to make.
Balloon Wall: Balloon Walls can make the most amazing backdrop for parties. Try being creative by adding colorful and printed balloons. If you get your balloon wall right, it can become an ideal spot for pictures at parties.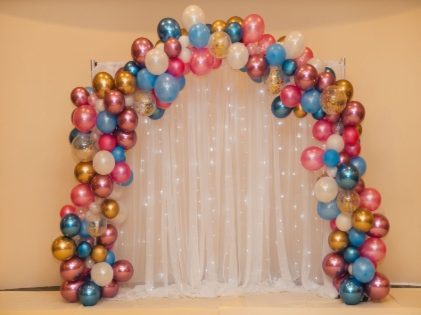 Balloon Dessert Table Backdrop: Just like creating a balloon wall, you can also create a balloon backdrop for your dessert tables. After all, it is the most awaited meal and deserves all the attention.
Balloon Columns: Balloon columns are perfect if you're not planning in throwing a whole gala and want to keep it private and low-key. You can create a small column out of silver and golden balloons and propose to your future wife and watch her heart melt.
Balloon ceilings: Balloons on the floor are so last year. Try covering your whole ceiling with balloons and watch your guests gasp in awe. This idea is for those who want to leave a lasting impression on their guests.
Add Some Glitter and Colour to the Balloon Decor
Confetti Dipped Balloons: Have you ever thought about covering balloons in confetti? Spice things up by using confetti-dipped balloons for your parties.
Face Decal Balloons: Face Decal Balloons are perfect when it comes to celebrating your loved ones and their accomplishment. They're a perfect way of making them feel special and the center of attraction of the whole event.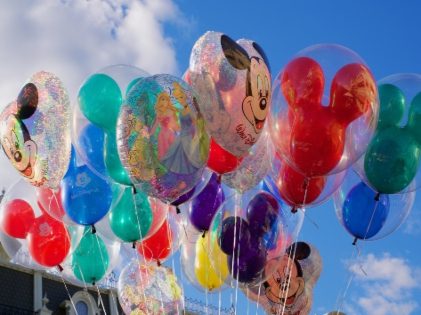 Paint splattered Balloons: Paint splattered balloons are not just unique and attractive but also very easy to make. All you need to do is take a can of spray paint and unleash your inner artist.
Two-toned balloons: Pick up two of your favorite acrylic paints and pain those balloons out. That's how simple it is two create two-tones balloons, and cherry on top they're also a sight to watch.
Marble Balloons: Marble balloons are a perfect and unique way of amplifying your balloon décor game. All you need are white balloons and some nail paints.
Rainbow Balloon Backdrop: A rainbow balloon backdrop is the best thing you can create for a child's birthday party. Children love rainbows and what's better than having one at your birthday party.
Balloon Chandelier: Just like creating a Balloon rainbow backdrop, you can also create a chandelier out of colorful balloons. However, this will require quite a lot of work and effort.
Tulle Balloons: Tulle balloons are a chic and elegant décor option for a bridal or baby shower. All you need to do is cover the balloon in tulle and tie it with a matching bow or ribbon.
Balloon Wedding Arch: On number twenty we have a wedding arch that you can make out of simple yet elegant white balloons. You can also add flowers to make the arch more appealing and picture-perfect.
Apart from the twenty mentioned ideas, there is a lot more than you can do. You can get creative with a balloon in unimaginable ways so put your artist hat on and get going.