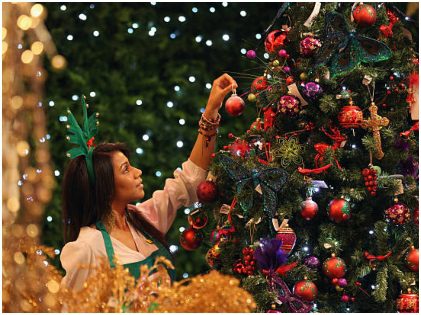 There's something about the holiday season that makes you take out all the decorative items from the nook and corner of the house and deck your home beautifully.  While you get everything from fancy shops together; however, it cannot equate to the feeling of every member of the house putting their heads together to make their homes beautiful and oh-so-beautiful for the upcoming festival season.
So, take out your garlands, ribbons, wreaths, ornaments, and Christmas lights to light up your home. Banking on ready-made decor can be a fancy proposition, so here is where the DIY decorations can step in. Yes, you can turn your home into a Christmas landscape with these easy-to-follow DIY ideas.
Gift Box Wreath
Wrap star wreaths are the ultimate option! Attach the assorted gift bows and get your hands on the 10-11 mini wrapped gift boxes to turn into a foam wreath form with hot glue. Increase the gifts by attaching the glue to a few small boxes and putting them atop larger ones. Round it off with super cute robot figurines in the middle.
Winter Lights Display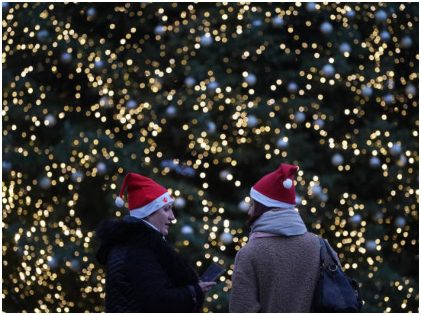 If you want to keep a sophisticated yet straightforward display, get the tree branches from your backyard, wrap them with white twinkle lights, and put them on a pedestal in the living room. This would give the ultimate Christmas feel with the perfect DIY fairy lights. It's what denotes the cozy warm feeling that is distinctive of a Christmas household.
Christmas Card Display
Get your prettiest cards out and bring them together, placing them in an iconic shape of a Christmas tree. You can place a galvanized tin bucket at the base, filled with presents. Getting the gifts and putting them in a tidy heap can give a more aesthetic look, and use the Christmas cards you have with you to good effect. Those pretty Christmas cards deserve a display corner of their own, bringing the entire look together.
Garland Accents
Fresh garlands lend an uber-fresh feel to your home decor, but you can yours and give it a fun angle, ensuring that it gels well with the existing environment. Get some construction paper in vibrant colors and then make triangle shapes out of them, much like triangle trees. Paste them together and ensure it hangs from the garland. You can even tie a ribbon in a corresponding color at the end of the banister to give it a cute Christmassy look.
Stitched Stocking
What's Christmas without stockings, and why should you stick to mundane stockings when you can make cozy additions to your mantel. Bank on your sewing skills and create a stitched stocking, ensuring it has pom-pom accents. When it comes to stockings, go the whole hog, choosing cute and interesting prints and even animal-inspired ones.
Sweater Christmas Trees
We bet you have plenty of sweaters which have seen better days. So, why not put them to better use? You can repurpose an old Christmas sweater and turn them into perfect tree decorations. Use a ribbon or a Nordic print to jazz things up a little more. The sweater touch does give it a lived-in and homely feeling.
Chair Wreaths
When it comes to Christmas decor, your seating arrangement is often the most ignored. So, don't overlook them while you are doing up your house. Give your chairs a Christmassy twist with small boxwood wreaths and ribbon. It will give perfect accompaniment to your well-decorated tables.
Door Bells
You can hang these bells from mini Bundt pans and molds on the front door, or you can hang them over the mantel. You can stack the mini molds and the pans to form perfect bell shapes and stick them together using epoxy. Create hot-glue ornaments right to the bottom to make clappers. Get ribbon loops, complete with a bow to hang it. Round off the look with a touch of greenery.
DIY Mitten Tree
Mittens can be the cutest accessory to lend your home a Christmas-like look. So, if you lose the matches, you can put them to perfect use for mittens in a cute triangular wall display. Use pom-pom ornaments in pastel shades that can act as branches. The result is a part-cute-part-pretty display that speaks volumes of your creativity.
Christmas is all about spending time with your family and doing stuff that otherwise you won't do the entire year around. Much like making Christmas cookies that set the tone for the entire holiday season. Are you ready to try making this fun DIY stuff to deck up your home? Let us know in the comments section below.