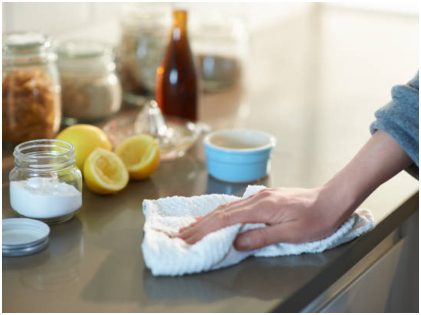 A clutter-full kitchen can weigh on your mind as you rack your brains on how to leave it sparkling clean in no time. There are tons of tricks to make your kitchen clean and sparkling in a jiffy quickly. Once your kitchen is clean and shiny, you feel sorted and ready to take on the world! And why not? There's one major task, done and dusted with, so it's to put your feet up and enjoy!
Clean the Oven The Easy Way
Cleaning the oven can turn out to be one of the most dreaded kitchen activities since it seems like a monumental task. You have to mix 1/2 cup of baking soda with a bit of water and make a paste. Remove the oven racks and apply the paste to the problem spots.
Ensure you do not skip the heating elements. Let it stay overnight. The following day, take a damp cloth and wipe away the paste, dislodging the charred bits, spray on the inside, with vinegar and wipe away with a soft and dry cloth. In no time, your oven would turn out to be a clean, sparkling haven.
Keep Your Supplies Together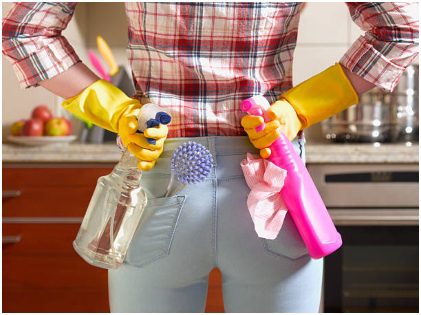 Finding the right supplies can majorly impact the cleaning groove. So, to find the right groove, you can club everything together. Caddies can help carry one thing from one spot to another. Ensure you keep these all-important things in your toolkits.
This includes supplies such as dish soap, baking soda, a spray bottle, paper towels, rubber gloves, white vinegar, an old toothbrush, a microfiber cloth, vegetable, or coconut oil, and your fave commercial cleaning products. Essential oils can spruce things up in no time. Kitchen-friendly scents that are kitchen-friendly include orange, lemon, peppermint, and tea tree oils.
Start from the Top and Make Your Way to the Bottom
Where to start cleaning? This thought can overwhelm you at first. You have to add a certain method to the madness. So, the best way to start is to start high and then reach the lower parts. Clean up the counter surfaces first and round off cleaning right at the end.
Make the Most of the Dishwasher
Creativity begins with your dishwasher. Dishwasher becomes a minefield of losing your bottle caps, reusable straws, and small kitchen tools. To lose them, keep them safe in a mesh laundry bag and right at the top of your dishwasher. The dishwasher can come in handy to dry racks, sponges, and other small kitchen items.
Make Your Garbage Look Fresh!
Smelly or crusty trash can make you feel stressed about everything. Don't worry. You can fix it up as you fill the garbage can with hot water with soap and vinegar. Keep the garbage can soaked with soap and vinegar and clean the rest of the kitchen while the cleaning liquid sits in the can. Next, drain off the liquid and wipe it out with the help of an absorbent towel and dry it naturally in the sink or bathtub. Soak cotton balls in sweet-smelling essential oils and maintain a clean garbage bag, and you will make over your garbage bag in an instant.
Clean the Gunk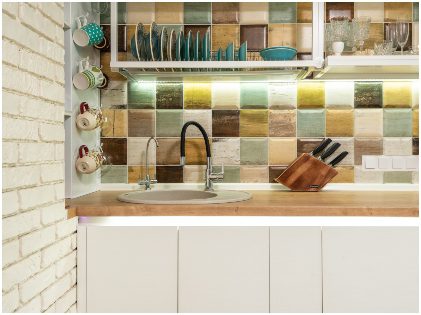 Soaking is one of the best ways to amp up kitchen games. Plus, it takes minimum effort. You can soak your stuff for an hour in hot water with soap or vinegar. All you need to do is scrub it lightly, and the gunk would come off with ease. Even if your sink is tiny, you can make do with a bathtub or scrub them in the shower.
 Shiny Pots and Pans
Baked-on crud on cookware can be an eye-sore. Baking soda can come to your aid. In this respect, sprinkle some on your pots and pans, add 1-2 cups of water, and boil it for 10 minutes. Add more if required till it evaporates. After you boil, you will have sparkling clean pots or pans, and the stains will be gone in no time.
However, if the grease is particularly heavy-duty, you can give your pots a rub with coarse salt and use a dry sponge right before the liquid starts boiling. A few tablespoons of vinegar will do the trick nicely, even if you have burnt cookware bottoms.
There you have it, the perfect solution to keep your kitchen sparkling and gorgeous in no time. And you could do it with two of the most hard-working essentials in your kitchen, vinegar, and baking soda!