In 2021, top designer houses created breakthrough fashion statements with their creatively designed apparel and accessories. Prada and Balmain were very much in vogue. Hollywood A-listers such as Bella Hadid and Jennifer Lawrence looked stunning in these ensembles. Which outfits and accessories finally made their way to the most defining fashion trends? Who were the real show-stealers of 2021? Let's find out.
Bandage Cutouts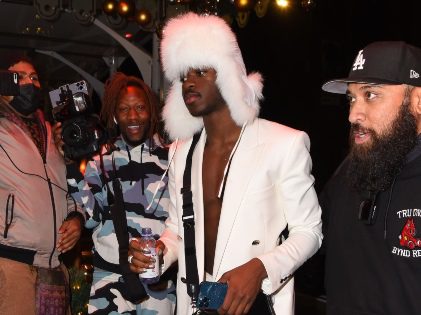 Montero Lamar Hill is popular by his stage name Lil Nas X. He made it to the top of the fashion trendsetters by dressing himself in bandaged cutouts. This popular singer and performer wore pieces from the excellent BALMAINSS22 collections, which Hodo Musa styled. In the Variety Hitmakers event, he stood out in his bandaged cutout top, which he paired with a satin monogram jacquard suit.
Though layering has always been popular, bandage cutouts stole the show in 2021. Mugler deserves credit for making a resurgence in the world of celebrity stylists. Megan Fox, Halle Bailey, and Lil Nas X wore plunging necklines. While Megan wore a cutout dress to the 2021 Billboard Awards, Halle wore a Mônot bandage dress at the MTV VMAs.
Caped Sleeves
Another attire that deserves mention on this list is the heavenly caped sleeves. The capes were gorgeous and voluminous this time. This made the outfit appear much bigger, grand, and bolder, creating a fashion statement in 2021.
Many actors, like Jennifer Lawrence, Jada Pinkett Smith, and Gemma Chan, have been well-lauded and adored for their fashion choices. They chose to don the capped sleeves, and fans and critics couldn't take their gaze off them. Jennifer was dressed in a gold Dior gown at the premiere of Don't Look Up. Jada Pinkett Smith looked stunning in Vivienne Westwood at the King Richard premiere. For the Eternals Press Tour, Gemma chose a Louis Vuitton outfit.
Ostrich Feathers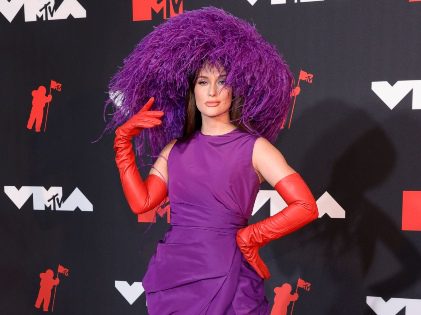 If you keep up with fashion news, you have probably heard of the ostrich feather trend at least once. In 2021, Kacey Musgrave wore a Valentino feather-adorned headdress at the MTV VMAs and looked lovely. This turned out to be one of the greatest costumes on the red carpet. The way she presented herself garnered a lot of compliments.
Aside from her, Olivia Rodrigo was also spotted at the 2021 AMAs wearing a feather hemmed transparent gown by David Koma. The list does not stop here. Cynthia Erivo struck out in a fuchsia Valentino skirt at the 2021 Venice Film Festival.
Leather Gloves
Leather gloves significantly improved the overall appearance of many performers. Many actresses couldn't help but adorn themselves with this glamorous accessory. It brought a touch of the 50s fashion trend to the clothing of 2021, making the appearance truly unique.
At the 2021 Met Gala, Gigi Hadid wore these leather gloves and a strapped Prada gown. When another prominent personality, Rochelle Humes, suited up in similar leather gloves, she too stole the limelight. Tessa Thompson was also wearing leather gloves at the 2021 Gotham Awards.
Gold Metalware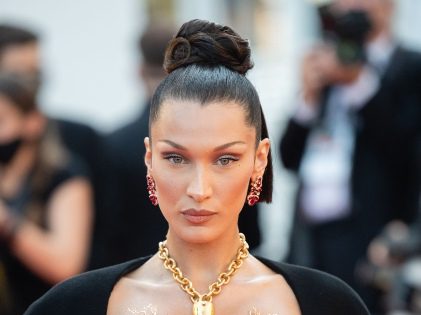 In 2021, gold metalware became one of the top fashion trends. Many fashion experts considered this trend extraordinarily striking and surreal, and it quickly became one of the year's highlights. Bella Hadid was seen in 2021 wearing Schiaparelli's Branching Out Lungs. She paired it with a long-sleeved silhouette and a revealed open bust.
She stunned everyone at the Cannes Film Festival and carved out a new fashion trend. These branched-out lungs hung like a necklace around her bust. Elle Fanning and Zendaya have also seen styling in the same way. Zendaya dressed in a backless Roberto Cavalli dress with a golden dual-headed serpent styled along her spine, while Elle chose a chain-link Balmain gown.
2021 was a big year in terms of breakthrough fashion statements. Every model and actress tried out new styles and played around with their outfits. They were all flaunting new styles in their outfits, accessories, and even cosmetics on the red carpet, Met Gala, or movie premieres.
Our fashionistas give us a glimpse of a whole new fashion trend every year. However, only a few manage to steal hearts. Which one was your personal favorite this year, and what kind of apparel and accessories would you love to stock up with next year? Did your favorite celebrity, designer, or fashion trend feature in this list? Let us know in the comments.