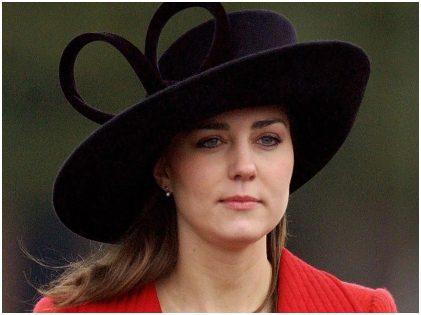 Kate Middleton is one of the most well-dressed women in the world. Every time she steps out of her royal home, she struts her designer outfits coveted worldwide. The Duchess of Cambridge, Catherine is famous for her most stunning dresses, whether formal or casual. We have been in awe of all her iconic looks over the years.
Prim N Prints Are The Only Way to Go
As the Duchess of Cambridge Middleton always keeps it chic and stylish. She is trendy yet timeless and can strike a balance with great aplomb. You may often see her sporting printed midi dresses.
Her colors are never garish, and she often wears classic colors that stand apart in a crowd. She never bends the rules but always has fun with it. She also compliments her dress with a similar printed mask, and her look is pleasing to the eye.
Red is Her Favorite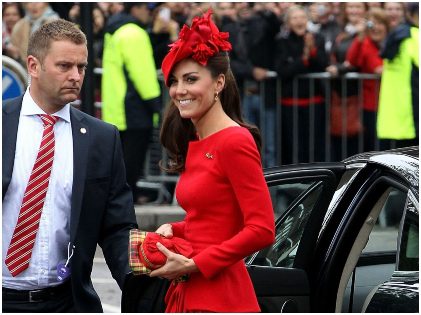 Kate Middleton has turned out one Haute couture look after another at the red carpet events. She has worn a red sweater and skirt she wore to give a speech at the BAFTA headquarters in London. It looked polished to perfection. Here she has stayed away from her usual chic jewelry and settled for a pair of hoops, making them look chic and sporty.
She wore a red Ralph Lauren sweater with a Christopher Kane midi-length pleated skirt. Red is certainly a great color for an event where you are the center stage, and you want people to look at you and listen to you.   Kane is a designer that she likes to repeat several times.  The designer's use of varied textiles and impeccable tailoring make him a favorite.
Here proves that Middleton is game to ditch her prim and proper jewelry for a more fun earring from ASOS. Her tan bag and shoes perfectly complement the red-hot color. It is rare to spot someone who can marry quiet taste with minimalist elegance with such great success. While she has aced her public event look game with extra brownie points. She has been equally adept in acing her red carpet look.
The Embellished Gold Dress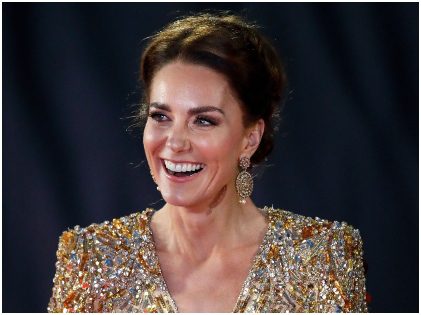 Kate Middleton's choice of gown for the premiere of the latest Bond film, No Time To Die, is a far cry from her last Bond Movie premier appearance. The last appearance was in a blue-grey chiffon number, which was staid and classic, and she managed to turn heads at the Spectre premiere in 2015.
However, she wore a glittering Jenny Packham dress for the 2021 premiere of the Bond movie. Appearing with her husband Prince William and other royal family members at London's Royal Albert Hall, Middleton stunned the world with her heavily embellished floor-length gold Jenny Packham dress. She also added a cape that was just right for the occasion, and it proved to be such a scene-stealer.
Packham, a favorite of the Duchess's, is famous for her hand-beaded and embroidered gowns. This was a look straight from her Fall 2021 read-to-wear collection. The metallic color gives the nod to the Tinseltown sirens of yore, much like Elizabeth Taylor.  Middleton wore her hair in her signature sleek up-do, did not wear too much jewelry, and paired it with bejeweled Onitaa gold earrings. She managed to create ripples in the fashion industry.
Her Obsession With Blue
Kate Middleton's ensembles have always been a trendsetter in fashion charts, and like all her appearances, this chic look in cobalt blue managed to set fresh new trends. The Duchess joined her husband, Prince William, on a Scotland tour. The couple was to visit charity Turning Point Scotland and then made their way to the Scottish Violence Reduction Unit, which raises awareness for addiction and violence. A series of pictures on the couple's official Instagram account showed the Duchess of Cambridge looking stunning in a cobalt blue ensemble, which was a nod to the classic style of Princess Diana.
The Duchess of Cambridge sure knows how to make statements with her classic-with-a-hint-of-glamor style. Quiet elegance is certainly her forte, and whether it is for soignee tea parties to weddings to movie premieres, Kate has a penchant for slaying with her inimitable style. We can't wait to see more of her stunning ensembles in the years to come.