Many celebrities and red carpet stars love to wear Christian Louboutin on their beautiful feet. And why not? His excellent creations and wonderful footwear steal every heart instantly. Christian has often shared his favorite show moments and how stars created fashion history by adorning his priceless creations. For him, collaborating with each of the stars has been a wonderful experience. Here are some of the most favorite designer-star collaborations that made it's to the front page of fashion news!
Blake Lively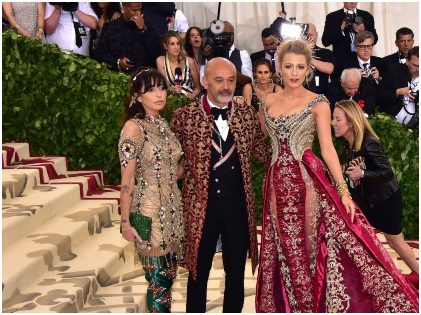 The Gossip Girl star has been one of Louboutin's muses, but one of his most popular looks has been the 2018 Met Gala look. The beautifully adorned heels were a special creation for Heavenly Bodies: Fashion and the Catholic Imagination. Louboutin created one of the gorgeous for Lively to wear for both appearances for the museum and the red carpet.
Louboutin visualized an extravagant version, and you rarely see something like this in reality. The effect of the look was much like a movie, grand, gorgeous, and bewitching! Blake Lively looked nothing short of a vision. In a custom Valentino gown and Cristian Louboutin heels. The entire look sent the paparazzi into a tizzy.
The actress walked the red carpet in a beautiful elaborate maroon and gold jewel-encrusted gown that beautifully stuck to the night's theme. Blake even went on to say that the look took over 600 hours to make, but the effect was stunning. Also, instead of bringing Ryan Reynolds as her date, Blake's arm candy was Christian Louboutin himself for the day.
Angelina Jolie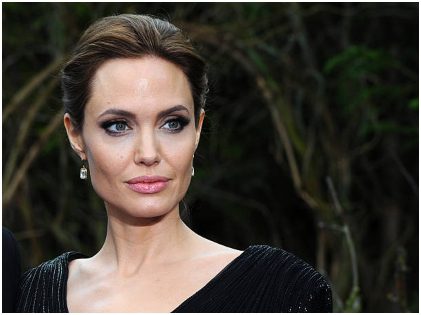 For the actress's role as Maleficent in the 2014 film, Louboutin created a style that helped lock the iconic horns on the character's head. The designer went on to say that he had a table at his apartment in Paris, which he calls the horn table because it has horns on the feet of the table, turning it upside down. When she looked at it, she had commented that it looked just perfect, and Angelina wanted to wear it for everything for the movie.
She made it even more perfect. With a little piece of red blood on the tip of the heel, adding her final touch. Jolie even made an intricate thorn-clad wedge with sheer mesh paneling and the brand's signature red sole. The look was such a hit that Louboutin created a version of the shoe for commercial purposes.
Elizabeth Taylor
When Louboutin gained more international fame in the early 2000s, Dame Elizabeth Taylor invited the French designer over to accompany her to the AmFar Gala in Cannes in 2003. Louboutin had the fondest memories with her, as she spent three days with her and had to fly to Cannes.
The day at the AmFar Gala, she dressed up for the event, and it was almost like a fashion shoot. It was a gala event with about 20 dresses, jewelry, fancy make-up, hair, colors, and make-up. Taylor chose to wear a green chiffon dress with a matching scarf and emerald and diamond jewelry. She matched it with green heels. Although Louboutin thought it was too matchy-matchy, Elizabeth loved it, saying she never had a problem going too matchy-matchy.
Gwenyth Paltrow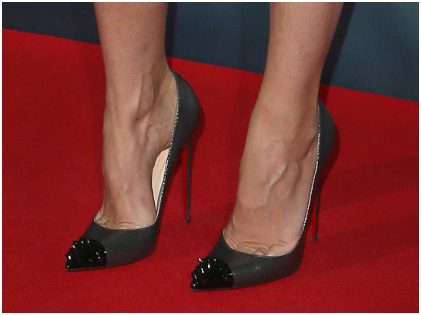 Gwyneth Paltrow arrived at the Cannes Lions festival in her usual fashionable wear. The Goop founder was channelizing holiday vibes with a head-to-toe floral print from Tory Burch. Her top and trouser combination brought a good amount of holiday cheer to La Croisette, and the pantsuit looked gorgeous on her. The Bubblegum pink Christian Louboutin sandals took our attention, which gave her a chic look and rounded off her look perfectly.
Paltrow attended a Wall Street Journal Tech event wearing a pink Hermès dress that catered to her polished aesthetic, but it was her shoes at the event that was a scene-stealer. Paltrow took to the red carpet in the prettiest Louboutin shoes ever.
Bejeweled, classy, and always gorgeous Christian Louboutin heels can give a run for the money to designer outfits. No wonder, whether it is for red carpet events or movie premiers, stars trust the designer to give them the classic Haute couture look. Has your favorite star worn the Louboutin heels? What's your favorite look? D0n't forget to let us know in the comments section!