Your kitchen, bedroom, and living room hold particular importance in your life, and to ensure it looks and feels perfect, you try and incorporate various elements to make it perfect. And to achieve the ideal kitchen, you can integrate residential Feng Shui tips. So, what is Feng shui? It is a Chinese system where the building is positioned in a certain way to rein in the spiritual forces to bring health and happiness. So, how can you include the right Feng Shui kitchen tips to make your kitchen the center point of your home?
Intense Cleaning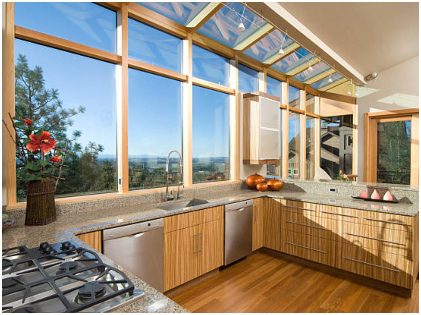 Start at your home by cleaning your refrigerator and pantry and removing all items past their expiry dates. When you declutter your kitchen, you promote positivity; Dust and grime hold a lot of stagnant energy in the kitchen. The stove in your kitchen has particular importance as it represents your career and how you can succeed in your life. So, give your stove a regular cleaning to bring in the flow of wealth.
Anything in your kitchen that holds importance and needs repair, ensure you repair it immediately. Ensure you keep away the chipped mugs and plates that can bring bad luck. Clean up your kitchen with natural salt and water, and salt has the potency to drive away negative energies from the kitchen. Also, it is important to visualize that it is absorbing negative energy.
The Right Colors For Your Kitchen
While many of us will think twice about incorporating white in our kitchen, as far as feng shui is concerned, white is right. The color white represents purity and cleanliness and can balance the color of the utensils and other stuff in your kitchen. If you are looking to achieve stability, choose colors such as brown and yellow. Colors such as blue and green are synonymous with growth and vitality. Colors such as red and orange are synonymous with passion and inspiration. However, it is white and grey, which can provide joy and clarity.
Placement of The Store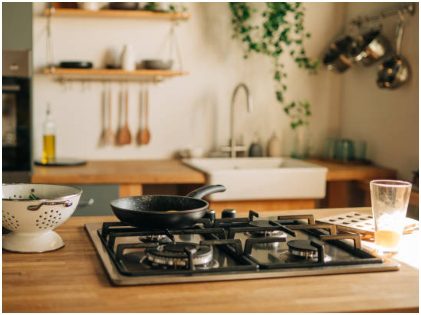 One of the key learnings of Feng Shui is to place the stove in the right place in the kitchen. But how can you determine whether you have set the stove correctly? The trick is to identify the furnace to observe the kitchen door while cooking. However, ensure it is not directly in line with the doorway. The other hack to try if you cannot change your kitchen door is to place a mirror in the kitchen so that you can see the door's reflection while putting your cooking skills to good use. This way, you control your life and career and make the most of opportunities.
One Stove Many Burners
We all want to improve our wealth and prosperity, and the Feng Shui of doing that is to get a stove with more than one burner and ensure that the fit is just right for the kitchen. Feng Shui experts advise opting for a three-burner stove. If you do not want to buy a new stove immediately, you can hang a mirror right behind the stove. Even if you have one burner, the reflection will make it seem like you have two burners. This way, you will invite more positivity into your life and career. Also, ensure you put your stove to good use daily as it will provide the inflow of wealth in your home. You can use a different burner daily if you have more than one burner.
More Plants and Fruits In Your Kitchen
A bowl of fresh fruits in your house not only signifies the good health of the inmates of your home but it enhances the prospects of achieving more wealth. There are other ways to add the right kind of Feng Shui touch to your kitchen; add some plants such as bamboo and herbs. Just the sight of green plants and the color of the fruits can change the kitchen's atmosphere and add to the positive vibes.
Tell us, have you ever tried any of the hacks before? Please share some of the Feng Shui tips you use in your kitchen.